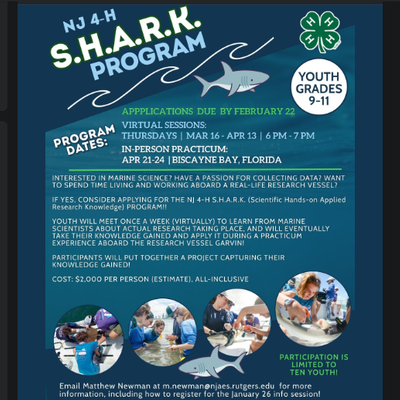 Calling all interested 9, 10, and 11 graders!
Want to spend four days on a research vessel learning about mega-fauna?! If so, consider applying to participate in NJ 4-H S.H.A.R.K.!
Developed by our own 4-H County Agent Matthew Newman, 4-H S.H.A.R.K. is program where youth gain hands-on marine science experience while living aboard a real-life research vessel!
Any questions, email Matt Newman at m.newman@njaes.rutgers.edu
Matthew Newman 4-H Agent III (Eqv. to Asst. Professor) County Extension Dept. Head  
Cooperative Extension of Monmouth County
Rutgers New Jersey Agricultural Experiment Station
4000 Kozloski Rd.
Freehold, NJ 07728-5033
Phone: 732-431-7260, ext. 7266
Fax: 732-409-4813
Email: m.newman@njaes.rutgers.edu