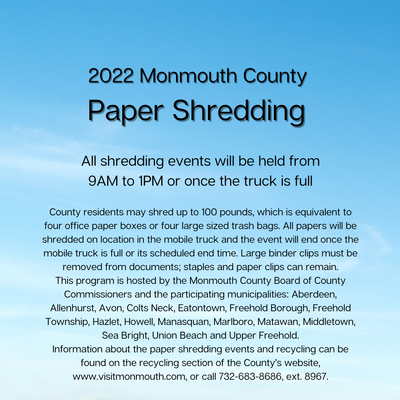 Monmouth County has scheduled paper shredding events throughout the County so that residents have the opportunity to dispose of old documents and confidential files safely.
All shredding events will be held from 9 a.m. to 1 p.m.
The reamining shredding events for 2022:
Saturday, Nov. 5 – Allenhurst Beach Club, End of Corlies Ave. near Ocean Ave.
Saturday, Nov. 12 – Middletown High School North, 63 Tindall Dr.
County residents may shred up to 100 pounds, which is equivalent to four office paper boxes or four large sized trash bags. All papers will be shredded on location in the mobile truck and the event will end once the mobile truck is full or its scheduled end time. Large binder clips must be removed from documents; staples and paper clips can remain.
This program is hosted by the Monmouth County Board of County Commissioners and the participating municipalities: Aberdeen, Allenhurst, Avon, Colts Neck, Eatontown, Freehold Borough, Freehold Township, Hazlet, Howell, Manasquan, Marlboro, Matawan, Middletown, Sea Bright, Union Beach and Upper Freehold.
Information about the paper shredding events and recycling can be found on the recycling section of the County's website, www.visitmonmouth.com, or call 732-683-8686, ext. 8967.